FAQs
DASP 2.0 requires STATA version 9 or higher.
In general, the *.ado files are saved in the following main directories:
| | | |
| --- | --- | --- |
| Priority | Directory | Sources |
| 1 | UPDATES: | Official updates of STATA *.ado files |
| 2 | BASE: | *.ado files that come with the installed STATA software |
| 3 | SITE: | *.ado files downloaded from the net |
| 4 | PLUS: | .. |
| 5 | PERSONAL: | Personal *.ado files |
Method 1: installing
DASP
modules in PLUS directory (recommended).
After downloading the DASP package and dezipping it, copy the folder dasp in the directory c:

Make sure that you have c:/dasp/dasp1.pkg, c:/dasp/dasp2.pkg, c:/dasp/dasp3.pkg and c:/dasp/stata.toc

In the Stata

command windows

, type the syntax
net from c:/dasp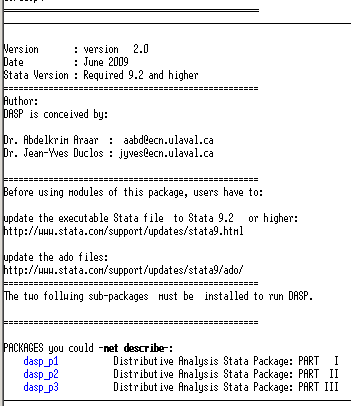 Type the commands
net install dasp_1.pkg, force
net install dasp_2.pkg, force
net install dasp_3.pkg, force
Follow these steps.
Type the command sysdir to find the path of the directory PERSONAL.

Unzip the file

dasp.zip
Copy contents of "dasp/files", i.e, *.hlp *.ado and *.dlg files , in the directory PERSONAL
How to add the
DASP
submenu to Stata's main menu?
With STATA 9.0, sub menus can be added to the menu item User.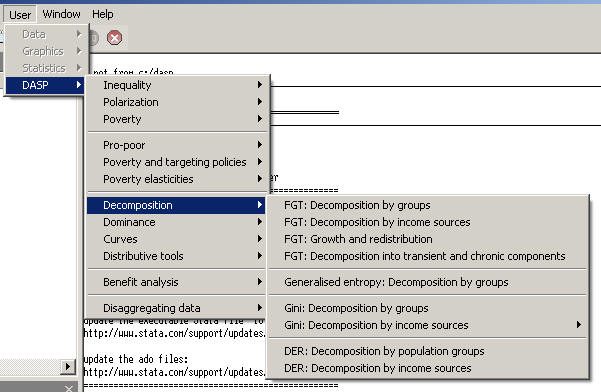 To add the DASP sub menus, the file profile.do (which is provided with the DASP package) must be copied into the PERSONAL directory. If the file profile.do already exists, add the contents of the DASP –provided profile.do file into that existing file and save it. To check if the file profile.do already exists, type the command: findfile profile.do .